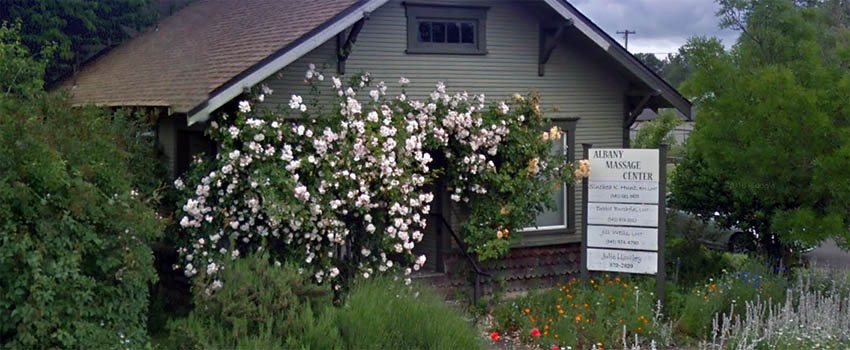 Providing Massage to the Willamette Valley
Welcome to the Albany Massage Center. We are located at 341 2nd Avenue near historic downtown Albany. We provide a relaxing yet professional setting for your massage therapy session.
We have four independent, licensed massage therapists in house, all offering different techniques and specialties.
Contact Us
Please contact individual therapists with questions or to schedule an appointment.
---
Mollie Cilley
Licensed Massage Therapist #23304
Contact
541-971-2955
willowsofthenorthwest.com
willowsofthenorthwest@gmail.com
Mollie has been practicing Massage Therapy for five years. With her initial training in Tennessee and worked through out Texas and Oregon. She specializes in therapeutic Deep tissue. Focusing on areas of concern by using integrated techniques to alleviate discomfort and pain. She uses different modalities to tailor each session to your individual needs.
Availability
Tuesday-Saturday, by appointment only.
Pricing

$30 - 30 minutes
$60 - 60 minutes
$90 - 90 minutes
Call, text, email, or my visit website to book and see specials
---
Nola Davis
Licensed Massage Therapist #25478
Contact
360-335-4271
remedymassagevancouver@gmail.com
Nola has been practicing Massage Therapy for eight years. She previously worked in the Columbia River Gorge and Vancouver, Washington. She specializes in intro-oral massage for TMJD, therapeutic-deep tissue massage, cupping, facial cupping, and gua sha. She combines long strokes, gentle rocking and stretching, and deep muscle sculpting techniques to promote deep relaxation and healing. Every session is tailored to meet each clients individual needs. All massages include complimentary hot stones and towels.
Availability
Sunday-Thursday, by appointment only.
Pricing

$70 - 60 minutes
$100 - 90 minutes
Text, call, or email to book an appointment. Ask about my new client and cash rates.
---
Mitzi Dykast
Licensed Massage Therapist #2097
Contact
541-409-4651
Mitzi has been practicing therapeutic massage in Albany for 32 years. She has an integrative approach, using a variety of modalities including Swedish, deep tissue, Muscle Energy Technique, and Strain Counterstrain. Also available are cupping, hydrotherapy and essential oils. She is able to tailor your session to your comfort and needs, from gentle to deep pressure, often combining a relaxing rubdown with focused problem solving.
Other trainings that influence Mitzi's work are Structural Integration and Nutritional Therapy.
Availability
Tuesday-Friday, 9-5 by appointment. Other days and times occasionally.
Pricing

$65 an hour
$85 an hour and a half
$105 for two hours
Payment
Cash or check

Gift certificates available
Please call for information or to schedule an appointment.
---
Julie Hawley
LMT 5338
Contact
541.979.2829
Julie has been practicing massage in the Albany area for 20 years. She describes her style as Deep Swedish massage aimed at working kinks out of tight muscles and totally relaxing the client.
Availability
I work Monday through Friday, 10am - 6pm by appointment.
Pricing

$65 an hour
$35 half hour
Gift certificates are available.
Please call with any questions or to schedule an appointment.
---
Map